Bangkok, the delightful, delirious, diverse capital of Thailand. The very first time I came to "The City of Angels" in 1992, I instantly fell in love with this awesome city. Today after all these years I am just as much, if not more, in love than ever. Without a doubt my wild wonderful love affair will last until the day I die.
This capital is a mixture of stunning temples, palaces. Little shanty houses rubbing shoulders with the most modern and deluxe shopping malls imaginable. There's an assortment of mind-blowing street markets where you will find whatever you cannot find anywhere else in the world. Food courts, tip top restaurants catering for every nationality, street vendors serving cheap and scrumptious delights of authentic Thai cuisine. All of which are a gourmet's dream.
Sophisticated five star hotels, where customer service, attention to detail, décor and amenities are often beyond par to many high-class lodgings in the western world. Mid-range and super economical hostels for the budget traveler are endless.
Saturated traffic jams, consisting of Tuk tuks, motorbikes, taxis, lorries, buses etc. One needs to go with the slow flow and not be in a hurry. I normally take my life in my hands and jump on the motorbike taxis because they are so much quicker! Please be warned they are not for the faint of heart. I often feel I am pillion to Marc Márquez (Spanish Grand Prix motorcycle racer) as we hare between the standstill traffic. Up to now I have always arrived alive!
The American series "Sex in the City" pales in comparison to the naughty haven catering for the sex tourists in Bangkok. "Girly bars," "Gay bars," "Both bars," and "Whatever else bar one could possibly crave for". Added to this are the world-famous Ping pong shows and a mish mash of purvey shows. In other words, porn, porn, and even more porn!!!
Luxury high end shopping malls where you will be spoiled for choice. There is an endless range of top designer shops from every part of the world. For budget visitors, there are fantastic markets where you can barter to your hearts content and come away with incredible bargains.
When you tire of the maddening crowd you can visit one of the beautiful parks that are in and around the city. At Lumpini park say hello to the fascinating Monitor lizards that are swimming in the lakes or relaxing in the sunshine. If you are too exhausted to even walk, then head for a massage parlor.  Prepare yourself "To die for an hour and go to heaven" I am an incurable addict to massages and wouldn't dream of missing out on them when I visit this kingdom.
Bangkok has the most amazing sky bars imaginable. There is no more perfect way to end the day than high up in the skies sipping a Mai Tai cocktail. You will never forget contemplating the sun as it sets on one of the most beautiful cities in the world.
.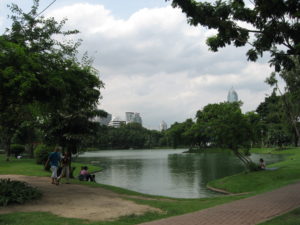 Fascinating Monitor Lizard - Stunning Lumpini Park