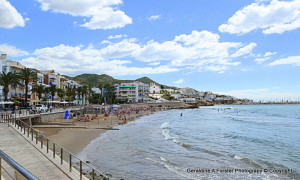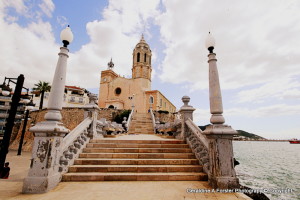 Sitges, Spain! what an incredible and stunningly beautiful village! I was smitten in the very first moment I arrived there, and that was at three o'clock in the morning!!! After having visited so many wonderful towns and villages in Spain, I would go as far as to say that Sitges is possibly one of the most enchanting places you could ever wish to visit in this country.
Situated about 35 kilometers southwest of Barcelona,  From the typical whitewashed buildings in the old town's narrow streets to the palm lined seafront esplanade and beyond, Sitges is an authentic Spanish seaside resort with so much to explore and discover.
The roots of Sitges' artistic reputation date back to the late 19th century, but when Catalan painter Santiago Rusinol took up residence there during the summer, the town in the 1960s became a centre for the counterculture on the mainland of Spain (then still under the dictatorship of Franciso Franco), and became known as a sort of " Miniature Ibiza".
I first came to Sitges in the 60s and was fortunate enough to live through that exciting, fascinating and oh so colourful period. Every evening we would sit on one of the terraces in the calle Dos de Mayo (2nd of May street) also nicknamed calle del pecado (The street of sin) and watch the gorgeous wealthy Spanish ladies parade up and down in their glorious coloured outfits of reds, greens, yellows, turquoise, mostly very wide flowing trousers and tops studded with enormous sequins. The hairstyles were amazing and were usually decorated with stunning silk flowers.. Every evening was a continuous fashion show that lasted till the early hours of the following morning and would have been the envy of the most illustrious designers such as Armani or Versace.
This incredible town is also famous for its flamboyant carnival, its awesome film festival and its controversial Gay parade! All of which are really worth seeing.
Not to forget the Rally, when gorgeous shining vintage cars come along the coast road from Barcelona to Sitges, the drivers with their wives and families all dressed up in outfits in accordance with the epoch of the cars.
Very soon after going on holiday to Sitges I returned and took up residence. I met and married a Catalan man and had three of the most wonderful children a mother could ever wish for.
I stayed for approximately fourteen years and have many beautiful memories of the time spent there..
Yes! Sitges is a very special place. The Sitgetanos are wonderful  - both the town and it's people will be held in my heart forever.