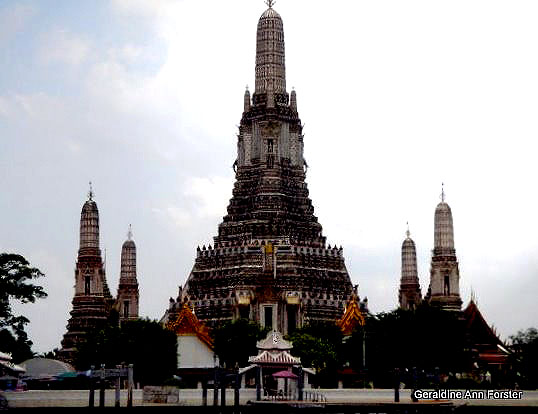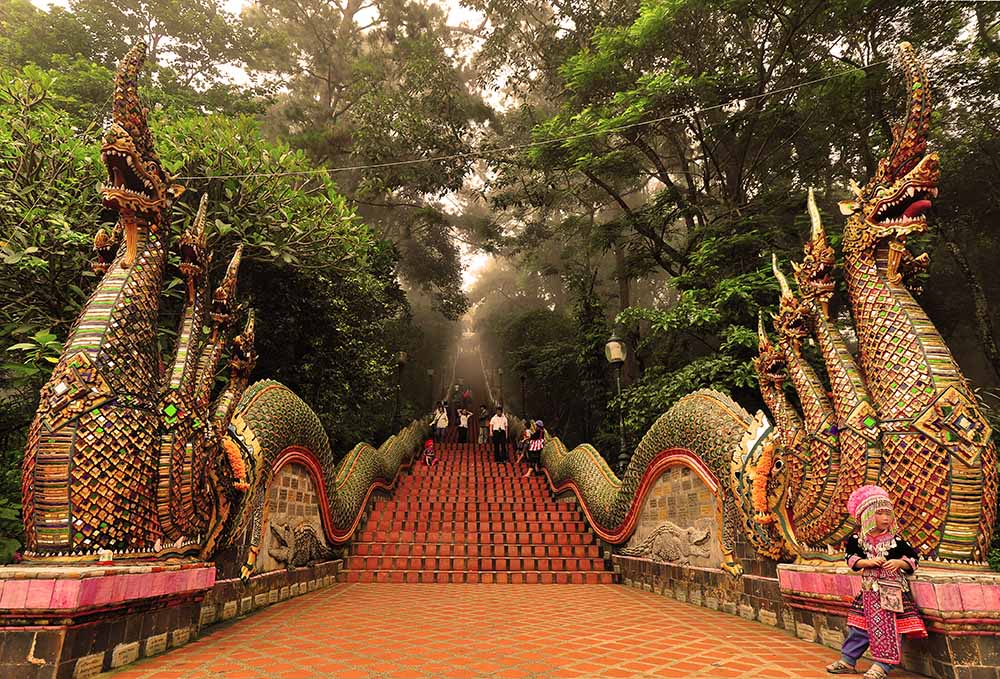 If I cast back my mind, I really can't say exactly when I started to have the desire to visit Thailand.. I only remember that it was a very long time ago.. Possibly inspired by my mother who would tell me about her friend who frequently went there and kept saying that it was the best place in the world... That combined with my love of the Asian and the exotic would most certainly have something to do with it.
My very first visit was back in 1992 when on a spur of the moment decision I decided to fly to Bangkok with my youngest son to visit my sister and her, what was to be future husband. At the time they were backpacking around Asia.. My youngest son has always been the one to return to the fold at Christmas time.. so when he phoned and asked me what we were doing for Xmas.. I immediately said.. Let's to to Thailand...Needless to say at that time I was still just a mother and didn't upgrade to Granny till 2002.
After a pretty tedious and grim journey we finally arrived in Bangkok.. My lovely sister and partner were waiting for us and whisked us off to the most enchanting typical teak guest house you could possibly imagine.. Traditional teak houses represented a style of living that has almost disappeared  from Bangkok these days, (sadly, including the one we stayed in). Unfortunately with so many modern buildings shooting up, it is difficult to find older houses that are still in use. Built upon the concept of simplicity with lots of windows and often built on stilts it was the ideal solution to the hot climate in the times before air-con.    
In those days it was custom to leave your shoes at the front door of the hostels, it was also the norm to help yourself to tea, coffee, breakfast, you then jotted down what you had had in a little notebook. At the end of your stay you simply added up your list and informed the owner how much you owed them. Long past gone are those delightful little details.
That first morning in Bangkok will stay in my memory forever, I just kept thinking "Oh my God, all those hours of awful journey has been worth it just to see this beautiful place" 
Bangkok known in Thai as "Krungthepmahanakhon Amornrattanakosin Mahintharayutthaya Mahadilokphop Noppharat Ratchathaniburirom Udomratchaniwetmahasathan Amonphiman Awatansathit Sakkathattiyawitsanukamprasit" is the longest name in the world for a city... or Krung Thep meaning "City of Angels" Most of you probably know this.. but I thought I would add it just in case somebody didn't.

 How do I begin to describe this incredible city?. Bangkok is a unique experience that you will never ever find anywhere else in the world. It won't matter how many people you ask to describe Bangkok, everyone will give you a different perception and opinion. I can only voice my feelings for this amazing city and if it differs from others, well it's my way of seeing it.
Bangkok is a mixture of delightful and decadent, modern and traditional, calm and chaos, hedonism and Buddhism. From towering shiny skyscrapers to squalid slums, from poorly clad street vendors tiredly pushing their carts full of wares, to the very latest and most luxurious cars you could ever wish to see. Super chic shopping malls with the very ultimate designer fashions to labyrinths of cheap markets for off the peg clothes, Elegant roof top five star dining to literally thousands of food stands where eating is an adventure in itself and every dish is delicious.

Wonderful smiling people with an incredible

culture, and an awesome philosophy. Bangkok is a harsh reality of life and
a city of innumerable contrasts of which one will never tire.